Children's Games in Street and Playground Volume 1: Chasing, Catching, Seeking by Iona and Peter Opie
Books
Perhaps this book should come with a warning to parents: within these pages, children deliberately scare each other, ritually hurt each other, take foolish risks, promote fights, and play ten against one. Yet throughout, they consistently observe their own sense of fair play. Through the 1960s, Iona and Peter Opie did an exhaustive survey of the rough-and-tumble games that children actually play—normally out of sight, as opposed to formal sports or games supervised by parents—between roughly six and twelve years. 

The result was their classic work, Children's Games in Street and Playground. To aid a clear and lively presentation of their remarkable study, the original single book has here been divided into two volumes. Both record games played by 10,000 children from the Shetland Isles to the Channel Islands, though most come from big cities such as London, Bristol, and Glasgow. 

The books include many favorites, such as "The Dreaded Lurgi", "What's the Time Mr. Wolf?", "Stuck in the Mud," and "British Bulldog." Each game—more than 125—is described in detail, including many rhymes and sayings, regional variations, and historical notes. 

The children of the 1960s, the Opies noted, are often thought "to be incapable of self-organization, and to have become addicted to spectator amusements," to the extent that adults must be relied on to provide play materials, ideas, and time to play with them. The same attitudes are still widespread today, with our concerns about television and computer games and the middle-class parental impulse to fill children's days with organized classes and play dates. There are important lessons in this book about giving children the time and physical space they need to learn how to be themselves with other children.
Iona Archibald Opie (born 1923) and Peter Mason Opie (1918–1982) met during World War II and together became a renowned husband-and-wife team of folklorists with a particular interest in children's toys, games and literature. They have written more than thirty books, including The Oxford Dictionary of Nursery Rhymes (1952) and The Lore and Language of Schoolchildren (1959). Iona Opie lives in Hampshire, England.
Paperback: 208 pages
Publisher: Floris Books (January 2009)
Language: English
ISBN-13: 9780863156663
Product Dimensions: 6 ¼" x 9 ¼" inches
I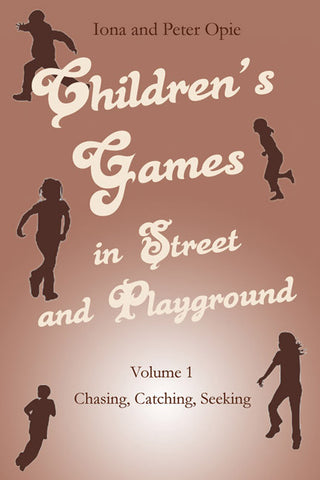 Featured Products