Duett - wooden spinning top
Wooden Toys
These Austrian made wooden tops are beautifully made. This top is an s-shaped top made out of two different woods, no two tops are exactly the same.  They are easy to use and fun for both children and adults. Beautifully balanced, they spin and spin with just a flick of the fingers.
They are wonderful little works of art, and also make great desk accessories or accents pieces. Oh, and did we mention how much fun they are?  Great for birthday parties, holiday stockings, or gift bags.
Specifications:
2-1/2" x 1-3/4"
Made in two piece of hard wood
All materials comply with stringent European Safety Standards
Sold individually.  Woods will vary and we will handpick out one especially for you.
Made in Austria.
Safety warning. Due to size this item it can be a choking hazard for small children. Not suitable for children under age 3. 
Tops are a wonderful learning tool for motor skills and mental development.
Tops are one of the oldest toys in the world, used by people of all cultures. Mankind has seen a lot of toys come and go, but spinning tops remain an essential element in games, art and technology.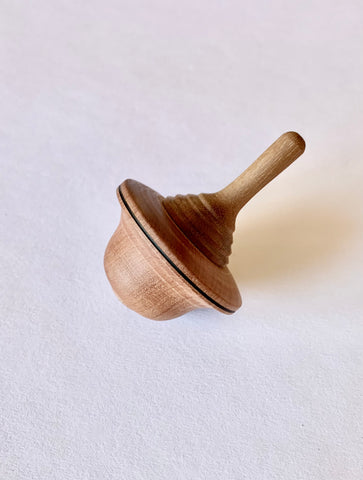 Featured Products